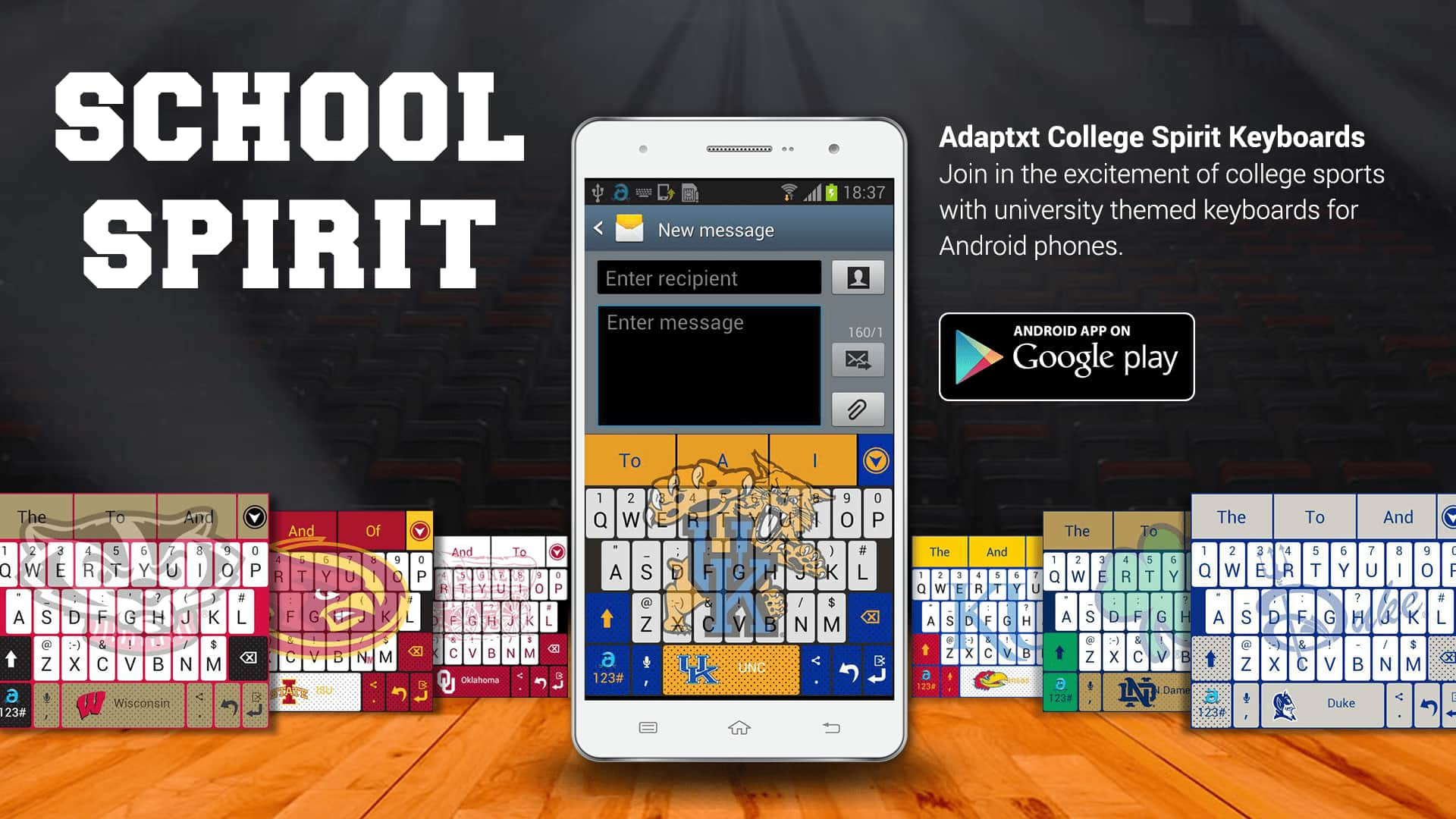 June 11th, 2015
Posted by kptadmin
Adaptxt
0 thoughts on "The Perfect Keyboard App"
Adaptxt College Spirit Keyboards is a new keyboard app aimed specifically at college students, alumni and fans who wish to follow their mascots and show their school spirit even when typing messages to friends or entering queries. The keyboard app displays custom skins targeting specific university themes, so users can proudly represent their regions and schools. The app is very easy to use and installs within seconds on recent Android devices, fact which makes it a must have. Below we will have a review of the main features of this app:

– Themes for specific schools and universities

The new keyboard that can be set by the user has the capability of displaying school mascot, as well the specific color and theme of it, so that phone's virtual keyboard becomes unified with school's mascot. The logos and color schemes are so well thought-out that they transform default Android's keyboard completely, enabling users to benefit from an entirely new typing experience.

– Corrections, predictions and word suggestions

Adaptxt College Spirit Keyboards is capable of adapting itself to each user's writing style, transforming the experience entirely and enabling everyone to type faster and without errors. The auto-correct feature learns user habits and is able to predict specific words for certain apps, writing styles and more. Predictions can also be improved or deleted by the user.

– Personalized predictions

Adaptxt Spirit College Keyboards is capable of learning user's typing habits based on the current app in use. Thus, predictions may differ from browser input and IM apps such as Skype.

– Large language support

Adaptxt College Spirit Keyboards is not just for the English language, but for over 90 ones as well. Thanks to default support for Romanian, Spanish, German, French, Italian and many other languages, Adaptxt College Spirit Keyboards can provide a bilingual typing experience and help its users input text more easily regardless of the current language spoken.

– Technical dictionaries included

For those who work or study in a specific field such as business, legal, medical or IT, Adaptxt College Spirit Keyboards provides technical dictionaries who can make technical word suggestions and easily adapt to the background required for the chat. Thus, technical users can accommodate to this app easier and facilitate their typing habits.

Conclusion

All in all, Adaptxt College Spirit Keyboards is a must—have skin app that completely transforms and improves user's writing experience. Furthermore, it features region and university-specific logos and themes that help students wear their favorite mascot with pride, right on their mobile gadgets.

Each college-themed Spirit Keyboard for Android is available at a cost from $0.99 – $2.99 and can be downloaded from Google Play Store.
View all themes at Adaptxt.com
Article Source: Ask Your Android